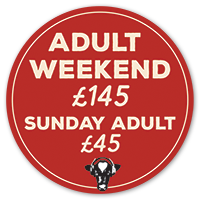 Valley Fest 2019 Tickets
Join us on the farm, overlooking the spectacular lake for fabulous feasts, world-class music and a lot of nonsense.
Camping is free. All the tickets (except Sunday's) include camping. But if you're not keen on camping, you can still go home each evening. And with your fresh face and bushy tail, you'll be welcomed back in from 8am and up until 9pm. Click on the link above for the various ticket options. Tier 1, 2 and 3 all provide you with the same access and facilities. Each tier has a number of tickets assigned at a certain price, the earlier tiers (1 and 2) were a little cheaper and we have sold out of those. We now only have tier 3 left.
Get on our land!