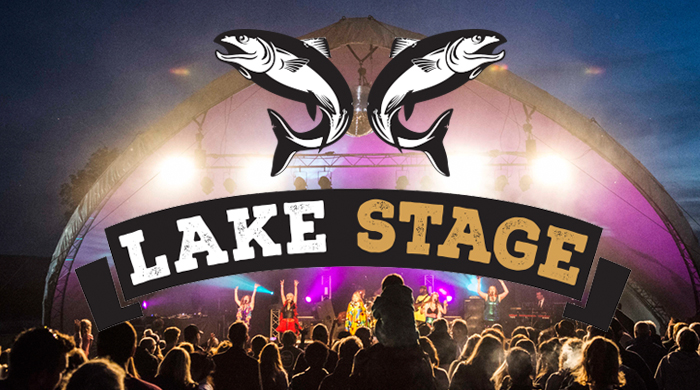 LAKE STAGE
The beating heart of the festival with the stunning backdrop of the lakeside view.
A kaleidoscope of delights await you at the Lake Stage. In 2017 we had everything from an eclectic mix of music to a giant fancy dress hoedown and even an award winning club night. Every year we aim to surprise and delight you and 2018 will be no different.
Most definitely a groove with a view.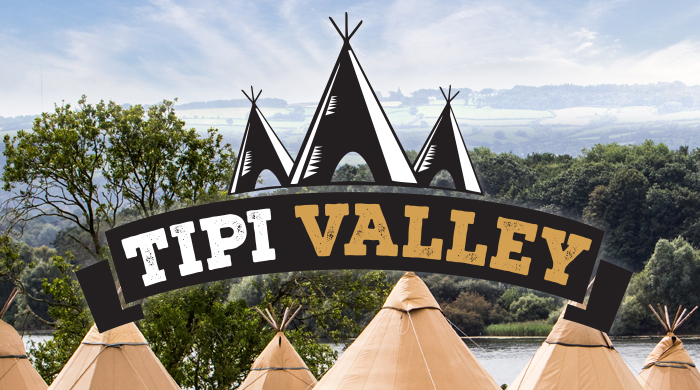 TIPI STAGE
Our iconic Tipi Valley is created from seven beautiful tipis build to withstand the ground-shaking grooves that go on inside. This is the place to discover barnstorming music to let loose to. Dance from morning till night and then some. It also hosts giant musical gatherings for the little people.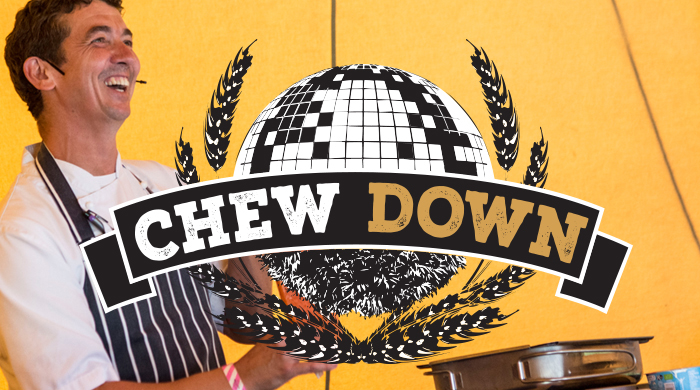 CHEW DOWN
Come scoff the beaten track to the Chew Down. Experience the best picnic site in the world perched on the brow of the hill looking down to the lake below. Venture in to our big top and expect to find a host of fun activities plus demos and talks from top chefs. There's always plenty to chew over!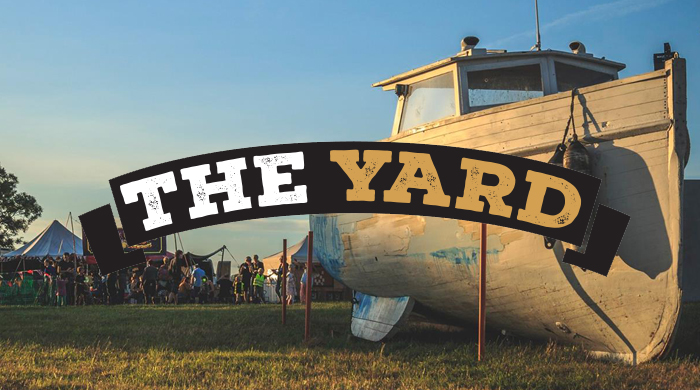 THE YARD
Presented by 'On Fire & Rescue'
Want to get your groove on? Then you have stumbled across the right place! From the outside it may look like a strange collection of disused vehicles, but find your way inside and discover the magical neon beating heart of the party.  You'll be inside our electric corral of rave wagons, led by a DJ booth inside a fire engine, where the very air is infused with dancing.
Discover DJs galore, dance-offs, musical statues like you've never experienced before, and even a circus. Plus the legendary Vibe Roulette – the interactive party where audience decides dance floor destiny! Instigate a spin at any time, and watch the crowd change pace as the DJ switches genres. It could be anything from Jungle to Power Ballads.
And you'll be well lubricated with a delicious array of rum-based cocktails from Fat Boy's Rum Shack, the original Jamaican party hut!
Day or night The Yard is always open. Venture inside during the day for fun and games galore. Bring the kids to master the decks or learn some circus skills. Or get playful with us and experience the hobby horse gymkhana and unusual sports such as 'foxing'.
Then rest in one of Fat Boy's hammocks with a rum punch to watch the sun go down, and witness the neon heart pulsate once more with electric beats and circus enchantment, all under starry skies.
Come and shake your junk at The Yard!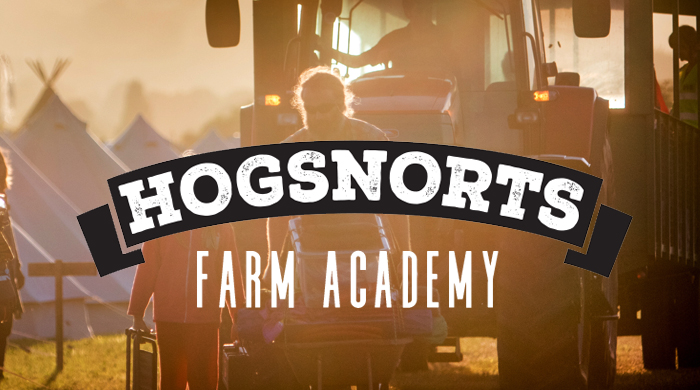 HOGSNORTS FARM ACADEMY
Adults and children alike are welcome at Hogsnorts to discover the delights of farming. We've everything from picking to pickling, growing to making, plus plenty of meeting and chatting. We've got farm animals and even some farmers to meet, plus some wonderful vintage tractors, country sports and falconry demonstrations. Plus The Community Farm have a whole programme of workshops, tours and talks. So come and get involved and start your 'sheducation'.
KIDS
Valley Fest is a veritable wonderland for children. We don't have a 'kids area' because there are fun activities for them around every corner.
They can head over to Hogsnorts Farm Academy to learn more about farming life, do some veg picking with The Community Farm, horse around on the vintage tractors and even meet the farm animals and enjoy the falconry displays. Weleda Wellbeing has kids yoga sessions and seed bomb workshops. There's also an arts and crafts tent, a film tent and adventures with poetry and stories in the Bed Talks – there's even bed time stories, and you know they'll sleep well after all that!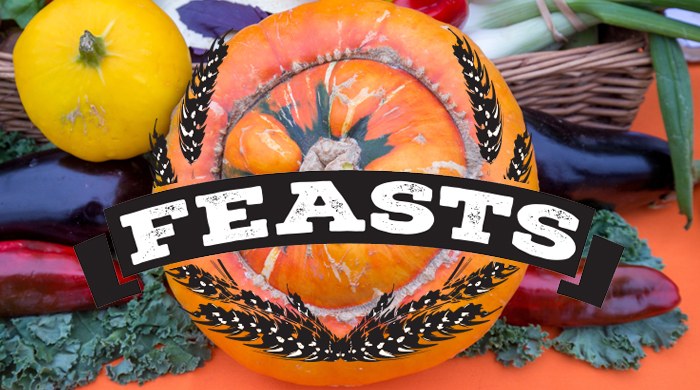 FEASTS
We love our feasts! Our ethos at Valley Fest is all about good people, good food and good times, and this brings together all of those things. For just £5 you can buy a food box filled with scrumptious treats, then we all sit together and enjoy the food and the company. The Midnight Feast takes place on the Saturday night and harnesses the joy of those midnight feasts you used to relish as a child. It's the thrill of doing something completely out of the ordinary, plus it has the added bonus of taking place under the stars with scintillating beats in the background and the buzz of enjoying with a big group of like-minded folk. The Sunday Picnic has a laid back Sunday feel to it and is the perfect punctuation to a thrill-packed festival, to stop and lay back on the grass with fine food and take in the picturesque view. And remember, all the food is organic.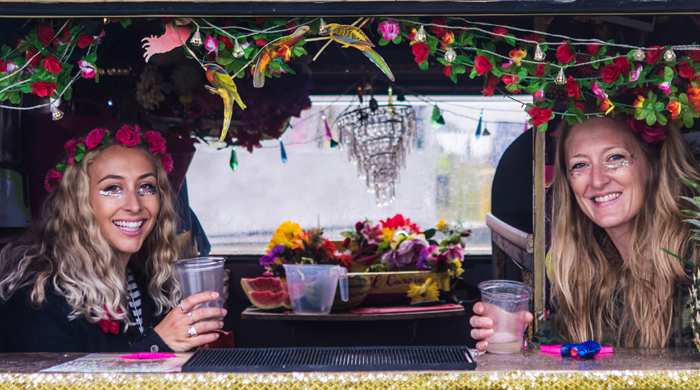 POPPING UP
On top of all of the musical and culinary delights, you can also expect the unexpected – surprises around every corner – installations, performances and happenings to thrill and amuse you. And don't forget our warming firepits as well – beautifully designed and lovingly crafted by artists, sit by these and imagine yourself in another world.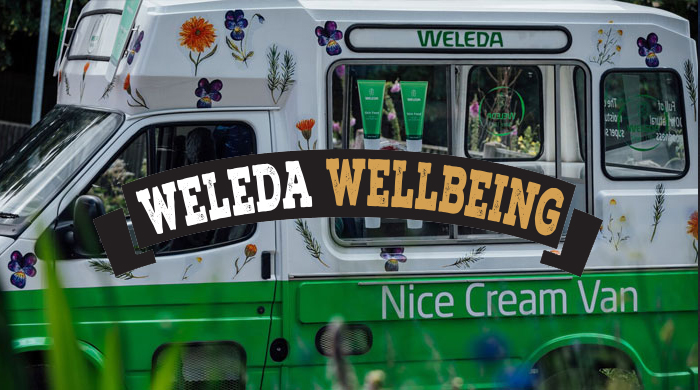 WELEDA WELLBEING
Treatment Tent:
Weleda Skin Food Facials:
Relax with Weleda for half an hour of organic bliss, leaving you rejuvenated and raring to go for more festival fun!
The Weleda Skin Food Facial is a radiance-restoring treatment in the pampering twin treatment tents in the Weleda Wellbeing Area. Weleda's signature facial is given using gentle skincare products that are all NATRUE-certified authentically natural and organic, and lasts 30 minutes.
Start with an aromatic rosemary compress to awaken skin and senses. Skin is then cleansed to remove grime and make-up, followed by a relaxing facial massage using gentle almond skincare. An organic chamomile infusion reduces puffiness around the eyes, as you drift off on the comfortable massage couch. Weleda Skin Food is then applied as a comforting face mask, before finishing the facial with a soothing lavender compress. You'll leave glowing!
Early bird booking is available here  to reserve your facial for just £24 (£30 from 1 August) so take advantage of the 20% discount now! Choose a slot from 3pm to 5.30pm on Friday or between 11am and 5.30pm on Saturday and Sunday.
You also get a little travel-sized pack of wonder-product Weleda Skin Food to take away with you.
Weleda Mini Massages:
Come and relax in a deck chair in the sunshine looking out over the beautiful lakeside view for 20 minutes of nurturing with an aromatic hand and arm massage. We hold a surprising amount of tension in our hands with constant use on computers and mobile phones, so it really is a wonderful way to unwind, for just a fiver! Come along to the Weleda Wellbeing Area to book a slot.
You also get a little travel-sized pack of wonder-product Weleda Skin Food to take away with you.
Weleda will also be bringing their Nice Cream Van with them, so you can buy some of their festival favourites and try out some lovely samples.
Mother Nature Tent:
This is a lovely nurturing space where you will find activities like kids' yoga, baby massage and other workshops for younger members of the family (details below). There's also a little sanctuary for breastfeeding mums to have some quiet time with their babies, to enjoy a free cup of Weleda's organic herbal tea for nursing mothers. If you have older children in tow, they can enjoy a few quiet minutes too in a cosy corner with the delightful Weleda mindfulness colouring books.
Workshops:
* Seed Bomb Making: come along with your children for this lovely workshop. Kids will be making paper pulp from shredded paper and then mashing in the seeds. They can take these home to plant in the garden and create a wonderful haven for wildlife.
* Kids' Yoga Session (5-12 year olds): join experienced yoga teacher Caroline Maddams for a fun-packed 40 minutes of beginners' yoga, no experience necessary. The session will look especially at breathing, teaching kids how to breathe deeply and inhale/exhale fully which has a great overall benefit to their wellbeing, This is a fun aspect of yoga for kids, with balloon breathing, bubble breathing, and loud 'om' howler monkey breathing! Caroline will introduce the kids to simple stretching mat work and finish with a little meditation technique. It's the perfect introduction for 5-12 year olds to the simple joys of yoga.
Parents can enjoy a Weleda hand massage in the sunshine while the Kids' Yoga session is running.
Mini-Me Skincare: aimed at tweens and teens, this is a lovely activity for parents and youngsters to do together, to learn how to look after teenage skin and why gentle natural products are ideal. Weleda's approach is very much less is more when it comes to young skin.
Baby Massage Class: join experienced massage therapist Sophie Graves for a morning baby massage class for parents and little ones. We'll provide the organic baby oil, mats and towels, you just bring the baby! Together the group will enjoy a cosy 40 minutes to learn a relaxing baby massage routine you can recreate at home.
Just come along to the Mother Nature tent and put your child's name down for a class. As places are very limited for these workshops, we will ask for a small deposit to reserve a place.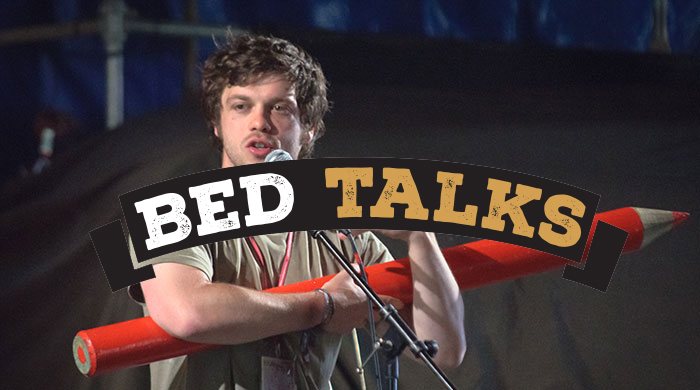 BED TALKS
Join us in our cosy Bedford Truck to feast on and play with words. We've got plenty to suit all ages, from Bedtime Stories for little ones to snuggle up to with before they go to the land of nod, to ukulele jamming sessions, story slams, sing-a-longs, fairytales, haikus and some of the finest spoken word to get your ears and heart dancing!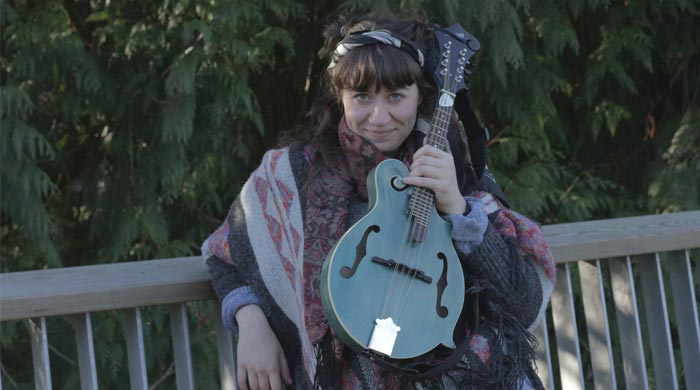 Once In A Blue Moon acoustic tent
Join us in our cosy acoustic tent for some intimate acoustic sessions, or even bring an instrument and jam with us into the small hours.