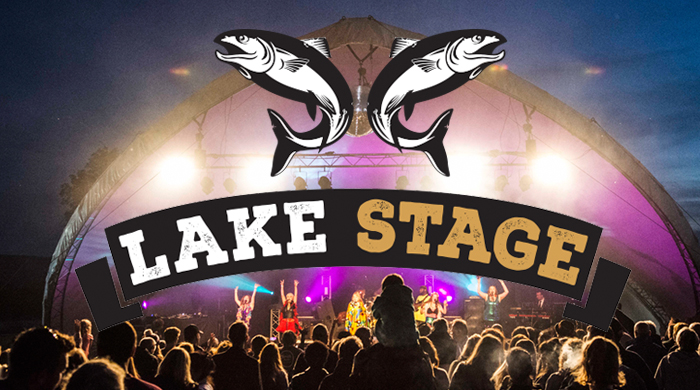 LAKE STAGE
The beating heart of the festival and home of the hoedown.
A kaleidoscope of delights await you at the Lake Stage, from an eclectic mix of music to a giant fancy dress hoedown and even an award winning club night.
On Friday night we host he reunion of legendary London club night 'White Wedding' for one night only. Come in your most garish wedding outfits; bride, groom, bridesmaids, vicars, crazy old aunt – join us for our kitsch reception with special guest DJ spinning classic wedding dance floor tunes.
Saturday brings you the hoedown. Again we want you to don some fancy dress togs, the theme is 'Glitter & Sawdust'. Grab sparkles, your Stetsons and your cowboy boots, lasso your nearest and dearest and get ready for the throwdown.
This stage will also play host to DJ Yoda's sure to be incredible live AV set on the Saturday night, and the blissful laid back vibes of legendary troubadour Jose Gonzalez on the Sunday. Check out the full list of performers in our line-up section.
Most definitely a groove with a view.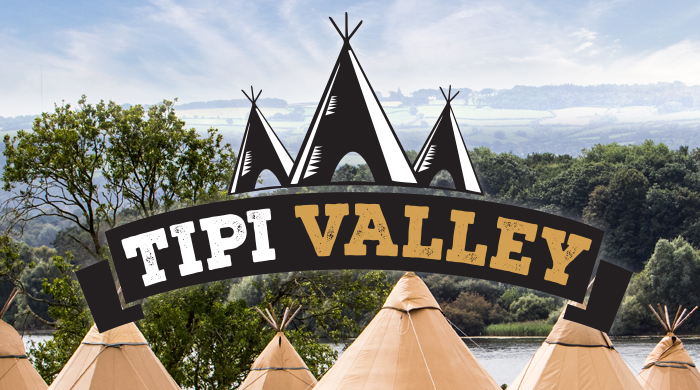 TIPI STAGE
Our iconic Tipi Valley is created from seven beautiful tipis build to withstand the ground-shaking grooves that go on inside. This is the place to discover barnstorming music to let loose to. Dance from morning till night and then some. It also hosts giant musical gatherings for the little people – Junior Jungle on the Saturday and It's Your Birthday! – quite simply a giant birthday party, on the Sunday.
Check out the full line-up here.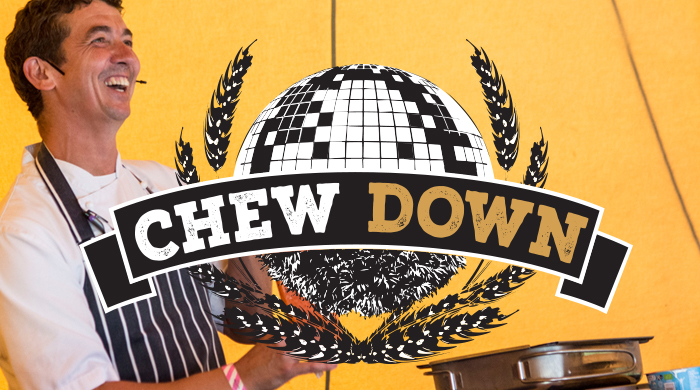 CHEW DOWN
Come scoff the beaten track to the Chew Down. Experience the best picnic site in the world perched on the brow of the hill looking down to the lake below. Venture in to our big top and expect to find a host of fun activities and demos, from making potato puppets, hilarious eating challenges like Fluffy Bunnies, a 'Swap Shop' game show, grub quizzes and storytelling with a twist all presented by interactive theatre masters 6FootStories. 6FootStories are a team of vagabond theatre makers from London. They come to Valley Fest after touring their riotous three-man retelling of Macbeth to venues round the country. They are seasoned festival performers and sure to go down a storm.
Here you will also find cooking sessions with Josh Eggleton, Paul Collins, Tideford chefs, Abel and Cole and others, a root-veg themed art workshop with artist Natasha Clutterbuck and even Ready Steady Cook with Phil Haughton of Better Food and friends – all using Community Farm produce. There will also be sampling 'meet the maker' sessions with Boston Tea Party, Tideford, Yeo Valley, Story Butcher, Community Farm and others. TV chefs Pat Hart & Sherrie Eugene Hart from the Carib-Asian Cookery Show will be creating some wonderful fusion dishes with a heavy dose of laughter and heart.
So plenty to chew over!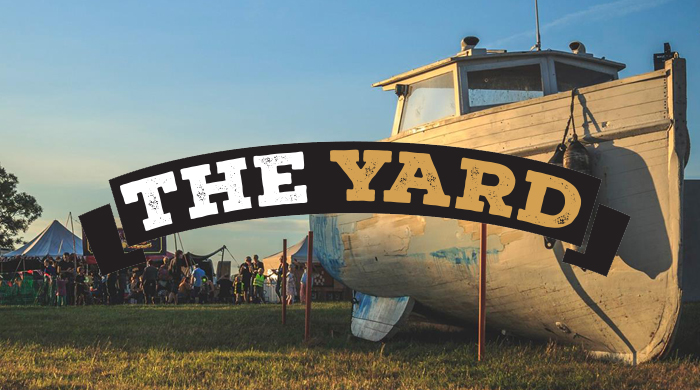 THE YARD
Presented by 'On Fire & Rescue'
Want to get your groove on? Then you have stumbled across the right place! From the outside it may look like a strange collection of disused vehicles, but find your way inside and discover the magical neon beating heart of the party.  You'll be inside our electric corral of rave wagons, led by a DJ booth inside a fire engine, where the very air is infused with dancing.
Discover DJs galore, dance-offs, musical statues like you've never experienced before, and even a circus. Plus the legendary Vibe Roulette – the interactive party where audience decides dance floor destiny! Instigate a spin at any time, and watch the crowd change pace as the DJ switches genres. It could be anything from Jungle to Power Ballads.
And you'll be well lubricated with a delicious array of rum-based cocktails from Fat Boy's Rum Shack, the original Jamaican party hut!
Day or night The Yard is always open. Venture inside during the day for fun and games galore. Bring the kids to master the decks or learn some circus skills. Or get playful with us and experience the hobby horse gymkhana and unusual sports such as 'foxing'. Plus nothing smacks of a British summer like the thwack of leather on willow – so the team are putting on a very special Valley Fest Twenty20 cricket match. While the DJs play the finest reggae, ska and dub styles, two teams will battle it out for the Valley Ashes! Sign up sheet in Fat Boy's Rum Shack.
Then rest in one of Fat Boy's hammocks with a rum punch to watch the sun go down, and witness the neon heart pulsate once more with electric beats and circus enchantment, all under starry skies.
Come and shake your junk at The Yard!
Check out the line-up here.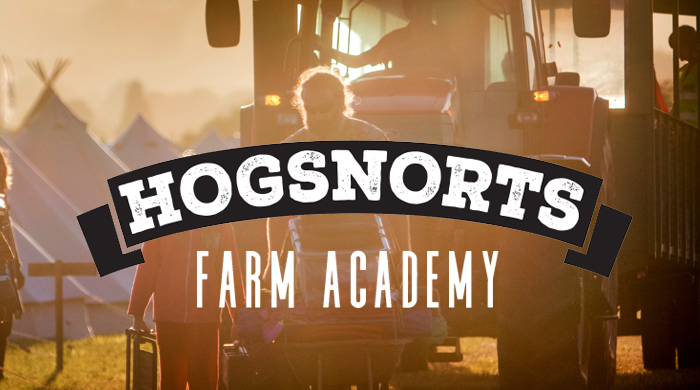 HOGSNORTS FARM ACADEMY
Adults and children alike are welcome at Hogsnorts to discover the delights of farming. We've everything from picking to pickling, growing to making, plus plenty of meeting and chatting. We've got farm animals and even some farmers to meet, plus some wonderful vintage tractors, country sports, falconry demonstrations, and even a rodeo bull to fit in with our hoedown theme! Plus The Community Farm have a whole programme of workshops, tours and talks, and even some 'weed dating'! So come and get involved and start your 'sheducation'.
Activities:
Kids' quiz and colouring sheet
Come to Forest School and make wildflower crowns
Watch a presentation about working with nature at The Community Farm
Be introduced to the world of pickling with tastings, a demonstration and a quick lesson including your own jar to take home!
Go on a tour of The Community Farm
Come on the family pick and cook – join us in the field to pick some tasty treats and transform them into a healthy seasonal snack (limited to 10 children, sign up needed)
Join us for a spot of 'weed dating'! That's right folks, you heard us. Single and fancy seeing if love could blossom in the organic veg patch? Grab a trowel and your best chat up lines and join The Community Farm for speed dating with a difference.
Learn from Community Farm growers how to maintain apple trees using permaculture techniques with our apple tree and companion planting masterclass. There's even free cider (and apple juice for the kids!)
Country sports – air rifle range, clay pigeon shooting, falconry demonstrations
Ride the rodeo bull – get in the hoedown spirit!
Meet the Farmer – a chance to meet six local farmers including Luke Hasell, Tim Mead and have a chat with them sitting on some hay bales
Delight in our vintage tractor display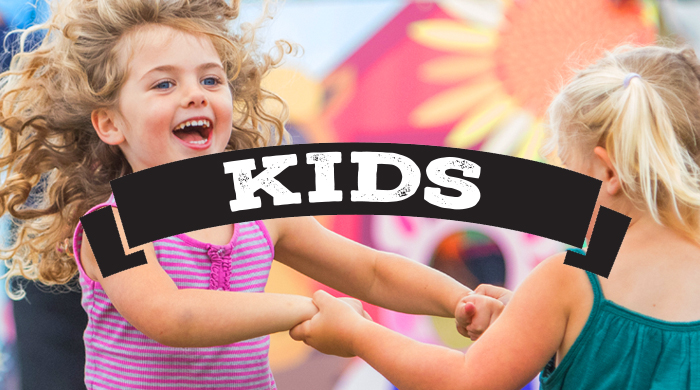 KIDS
Valley Fest is a veritable wonderland for children. We don't have a 'kids area' because there are fun activities for them around every corner.
Theatre group 6FootStories are heading up a whole heap of amusements in the Chew Down, including food games, quizzes and game shows. All those times you told them not to play with their food? Well now they can! Plus there's loads going on in the Yard during the day for kids, including learning circus tricks, DJ skills, a crazy cricket match and hobbyhorse gymkhana and a host of other high jinks! There's also raving to be done in the form of Junior Jungle and It's Your Birthday on Saturday and Sunday mornings in Tipi Valley.
They can head over to Hogsnorts Farm Academy to learn more about farming life, do some veg picking with The Community Farm, horse around on the vintage tractors and even meet the farm animals and enjoy the falconry displays. Weleda Wellbeing has kids yoga sessions and seed bomb workshops. There's also an arts and crafts tent, a film tent and adventures with poetry and stories in the Bed Talks – there's even bed time stories, and you know they'll sleep well after all that!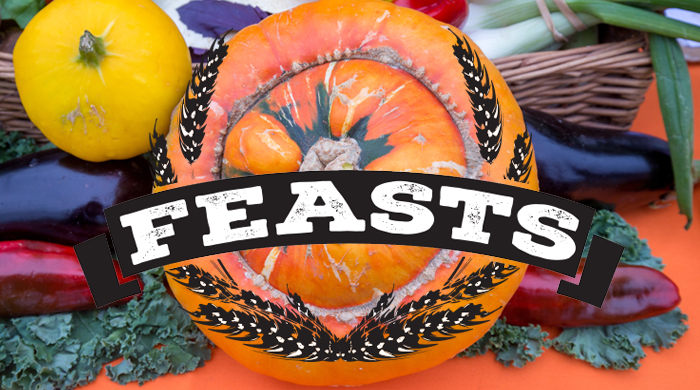 FEASTS
We love our feasts! Our ethos at Valley Fest is all about good people, good food and good times, and this brings together all of those things. For just £5 you can buy a food box filled with scrumptious treats, then we all sit together and enjoy the food and the company. The Midnight Feast takes place on the Saturday night and harnesses the joy of those midnight feasts you used to relish as a child. It's the thrill of doing something completely out of the ordinary, plus it has the added bonus of taking place under the stars with scintillating beats in the background and the buzz of enjoying with a big group of like-minded folk. The Sunday Picnic has a laid back Sunday feel to it and is the perfect punctuation to a thrill-packed festival, to stop and lay back on the grass with fine food and take in the picturesque view. And remember, all the food is organic.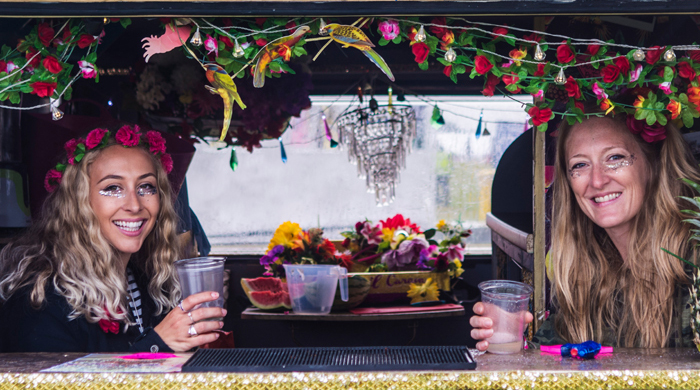 POPPING UP
On top of all of the musical and culinary delights, you can also expect the unexpected – surprises around every corner – installations, performances and happenings to thrill and amuse you. And don't forget our warming firepits as well – beautifully designed and lovingly crafted by artists, sit by these and imagine yourself in another world.
Wonder around site and discover:
– Fire dancers from Steamship Circus
– Hula hoop workshops and shows from Circahoops
– Punk-aerobics dance classes from X-ray Specsercise
– Flit, Flap & Fly amazing roaming theatre show from Fine Chisel
– Kids costume parade with samba drummers and dancers at 3pm on the Sunday
Plus don't forget to say hallo to local Landowner Martin Compton and his trusty No. 2 Nempnet Thrubwell.You will certainly meet this dynamic duo as they peramble around the festival on a tastefully decorated Gator 4×4 sharing bonhomie, crazy games and useful festival information while repeating the mantra "Get On My Land"!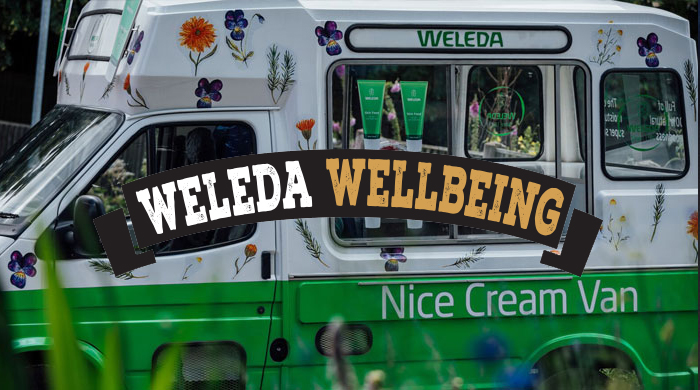 WELEDA WELLBEING
Treatment Tent:
Weleda Skin Food Facials:
Relax with Weleda for half an hour of organic bliss, leaving you rejuvenated and raring to go for more festival fun!
The Weleda Skin Food Facial is a radiance-restoring treatment in the pampering twin treatment tents in the Weleda Wellbeing Area. Weleda's signature facial is given using gentle skincare products that are all NATRUE-certified authentically natural and organic, and lasts 30 minutes.
Start with an aromatic rosemary compress to awaken skin and senses. Skin is then cleansed to remove grime and make-up, followed by a relaxing facial massage using gentle almond skincare. An organic chamomile infusion reduces puffiness around the eyes, as you drift off on the comfortable massage couch. Weleda Skin Food is then applied as a comforting face mask, before finishing the facial with a soothing lavender compress. You'll leave glowing!
Early bird booking is available here  to reserve your facial for just £24 (£30 from 1 August) so take advantage of the 20% discount now! Choose a slot from 3pm to 5.30pm on Friday or between 11am and 5.30pm on Saturday and Sunday.
You also get a little travel-sized pack of wonder-product Weleda Skin Food to take away with you.
Weleda Mini Massages:
Come and relax in a deck chair in the sunshine looking out over the beautiful lakeside view for 20 minutes of nurturing with an aromatic hand and arm massage. We hold a surprising amount of tension in our hands with constant use on computers and mobile phones, so it really is a wonderful way to unwind, for just a fiver! Come along to the Weleda Wellbeing Area to book a slot.
You also get a little travel-sized pack of wonder-product Weleda Skin Food to take away with you.
Weleda will also be bringing their Nice Cream Van with them, so you can buy some of their festival favourites and try out some lovely samples.
Mother Nature Tent:
This is a lovely nurturing space where you will find activities like kids' yoga, baby massage and other workshops for younger members of the family (details below). There's also a little sanctuary for breastfeeding mums to have some quiet time with their babies, to enjoy a free cup of Weleda's organic herbal tea for nursing mothers. If you have older children in tow, they can enjoy a few quiet minutes too in a cosy corner with the delightful Weleda mindfulness colouring books.
Workshops:
* Seed Bomb Making: come along with your children for this lovely workshop. Kids will be making paper pulp from shredded paper and then mashing in the seeds. They can take these home to plant in the garden and create a wonderful haven for wildlife.
* Kids' Yoga Session (5-12 year olds): join experienced yoga teacher Caroline Maddams for a fun-packed 40 minutes of beginners' yoga, no experience necessary. The session will look especially at breathing, teaching kids how to breathe deeply and inhale/exhale fully which has a great overall benefit to their wellbeing, This is a fun aspect of yoga for kids, with balloon breathing, bubble breathing, and loud 'om' howler monkey breathing! Caroline will introduce the kids to simple stretching mat work and finish with a little meditation technique. It's the perfect introduction for 5-12 year olds to the simple joys of yoga.
Parents can enjoy a Weleda hand massage in the sunshine while the Kids' Yoga session is running.
Mini-Me Skincare: aimed at tweens and teens, this is a lovely activity for parents and youngsters to do together, to learn how to look after teenage skin and why gentle natural products are ideal. Weleda's approach is very much less is more when it comes to young skin.
Baby Massage Class: join experienced massage therapist Sophie Graves for a morning baby massage class for parents and little ones. We'll provide the organic baby oil, mats and towels, you just bring the baby! Together the group will enjoy a cosy 40 minutes to learn a relaxing baby massage routine you can recreate at home.
Just come along to the Mother Nature tent and put your child's name down for a class. As places are very limited for these workshops, we will ask for a small deposit to reserve a place.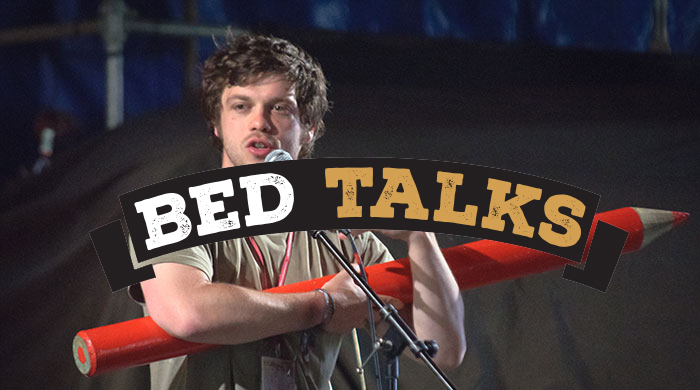 BED TALKS
Milk Poetry and Sharp Teeth Theatre present…Bed Talks!
Join us in our cosy Bedford Truck to feast on and play with words. We've got plenty to suit all ages, from Bedtime Stories for little ones to snuggle up to with before they go to the land of nod, to ukulele jamming sessions, story slams, sing-a-longs, fairytales, haikus and some of the finest spoken word to get your ears and heart dancing!
Here's the full programme, and you can check out all the performers in our line-up section.
Friday 4 August
5pm 'til bedtime. Once upon a time… BEDtime stories (3yrs+)
Looking for a way for the young 'uns to wind down? Bring them along to our Bedtime Stories for beautiful and wild tales from our storytellers. Bring your pillow, your teddy, your hot chocolate and snuggle up for some adventures.
Saturday 5 August
10-11am. Milk Teeth (8-12yrs)
Bristol's super cool cult poetry night Milk (run by Slam Champion Malaika Kegode) and Sharp Teeth Theatre (who curate Sharp Teeth Presents… at The Wardrobe Theatre) have teamed up to make Milk Teeth, a poetry and storytelling show for small people! Like penguins and icebergs, like Batman and Robin, like you and your best friend, they belong together.
Come on down and let your ears be hum-dinged with hilarious haikus, your imaginations be inced and winced by stunning storytelling and your heart be fizz-whizzed by our fine hosts!
11am-12noon. Ukul-alley Fest Jam
An open jam for all uke lovers, from noodlers to pros! Come along to learn great songs, riff on strings and have plenty of fun… (Instruments provided)
12.30-1.30pm. How to be a sexy poet! (workshop) (16yrs+)
Poets are the sexiest. Fact. So come along and learn how to release your inner sexy poet. Teams will compete to write the raunchiest rhyming couplets and the horniest haikus. It will be silly.
2-4pm. BEDTalks
4-5pm. Story Slam
Bristol's ever popular Story Slam hosts a mini-storyslam as part of Valley Fest. Speak Easy Story Slam is a unique event where you can hear people's amazing true stories, told live on stage. They believe that everyone has a great story, we just need a platform to tell it!
Each night has a theme – anything from 'vices' to 'stranger in a strange land' – and all stories are told by volunteers from the audience. Put your name in the hat for a chance to tell your story, or just come along and enjoy everyone else's.
These events sell out at the Wardrobe Theatre in Bristol every month, so we'd recommend turning up in good time for this one.
5pm 'til bedtime. BEDtime Stories (3yrs+)
Looking for a way for the young 'uns to wind down? Bring them along to our Bedtime Stories for beautiful and wild tales from our storytellers. Bring your pillow, your teddy, your hot chocolate and snuggle up for some adventures.
6pm 'til sunset. Milk Poetry and Sharp Teeth present… a night of sensational spoken word!
Since first being poured in 2015, Milk Poetry has built a warm and welcoming platform for performers and audience alike, featuring quality spoken word from all over the world. Sharp Teeth is a theatre company telling stories with bite, bringing together different art forms to create riotous fun. They've joined forces to bring you a showcase of poets and storytellers that will get your ears dancing (to give your feet a rest!)
Sunday 6 August
10-11am. Milk Teeth (8-12yrs)
Bristol's super cool cult poetry night Milk (run by Slam Champion Malaika Kegode) and Sharp Teeth Theatre (who curate Sharp Teeth Presents… at The Wardrobe Theatre) have teamed up to make Milk Teeth, a poetry and storytelling show for small people! Like penguins and icebergs, like Batman and Robin, like you and your best friend, they belong together.
Come on down and let your ears be hum-dinged with hilarious haikus, your imaginations be inced and winced by stunning storytelling and your heart be fizz-whizzed by our fine hosts!
11am-12noon. Sunday Sing-a-long!
Join us in a beautiful and fun sing song to wake us up and banish the hangovers. Expect folky rounds and circle jams. All abilities welcome.
12.30-2pm. Hide-a-Haiku!
Do you dream in 5-7-5? Like your poetry in bite-sized nuggets? Either way, this is the drop-in session for you! Learn how to craft the perfect haikus from our crack team of guest poets. Then hide them somewhere sly for fellow Valley Fest-ers to discover! Be inventive… coming up with the best hiding place will earn you a little milky somethin'
2-4pm. BEDTalks
4-5.30pm. Valley Festival Poetry Slam (with Open Mic)
Bring your clicks, claps, whoops and whistles for the best poetry slam this side of Stonehenge! Fancy having a go yourself? Our friendly open mic is your chance to spill some words and wisdom.
6-7pm. Happily ever after! Fairytales (for grown-ups too!)
Like a path of crumbs or a big bad wolf, all things must come to an end eventually. Even really good things like Valley Festival! You're warmly welcome back to the Bedford Truck for a final chapter of ear-warming folklore.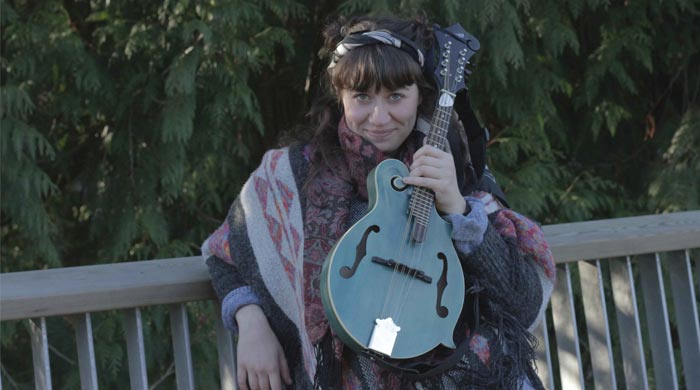 Once In A Blue Moon acoustic tent
Join us in our cosy acoustic tent for some intimate acoustic sessions, or even bring an instrument and jam with us into the small hours.
FRIDAY
18.00 – Beatboxing workshop
Don't miss our first event in this beautifully intimate space – come and get involved with our beatboxing workshop!
19.30 – Leo James
Bristol's own master guitarist Leo James delivers a set of no-nonsense self-penned songs shot through with a bold streak of blues
21.00 – Jaz Delorean
Whimsical songs and storytelling from the piano with charismatic songwriter Jaz Delorean, ahead of his show on the Tipi with Tankus the Henge
22:30 – KETIBU
Armed with just a ukelele, KETIBU entrances with folkish ditties about love, sorrow and adventures beyond the ordinary.
00:00 – Holly Wellington & Alun Elliot-Williams
Top notch vocalist Holly Wellington (Feelgood Experiment/Ishmael Ensemble) teams up with crack guitarist Alun Elliott-Williams (Waldo's Gift) for a slice of soul-jazz.
SATURDAY
10.00 – Yoga
11.00 – Natural Movement
12.00 – Richard Hughes
Accordion & tuba player Richard Hughes opens our Saturday line up with his charmingly eccentric tunes.
13.30 – Hayley Harding
Upcoming London-based artist Hayley Harland writes songs as delightfully fresh as newly cut grass, performed with clarity and strength.
15.00 – Lauren Bradford
Originally from San Francisco, singer-songwriter Lauren Bradford is one of Bristol's favourite musical recruits. Don't miss her set with Eko Trio on Sunday!
16.30 – Murmeln
Berlin-based songwriter/producer Murmeln never shies away from intimacy in his distinctive brand of sweetly melancholic folktronica
18.00 – Sam Brookes
Sam Brookes has earned an international reputation for his heartbreaking songs and breathtaking vocals.
19.30 – Rachael Dadd
Delightfully idiosyncratic multi-instrumentalist & singer Rachael Dadd has cultivated a totally individual soundworld on the bendy boundary between cinematic folk and lo-fi indie.
21.00 – China Bowls
With unpredictable vocal melodies glancing off her nonchalant guitar playing, China Bowls' original tunes drawon infectious neo soul, jazz and hip hop vibes
22.30 – Hands of the Heron
Expect raw emotional experience distilled into memorable melodies from Hands of the Heron, with close harmony vocals, mandolin and accordion at the core of the sound.
23.30 – Blue Moon Folk Jam
Bring your instruments, or just yourselves, pick a folk tune and get involved with our totally open late night folk jam, going right up to 2am.
SUNDAY
12.00 – Harry Harding
Multi-instrumentalist Harry Harding puts down the drumsticks and picks up an acoustic guitar for a set of gorgeous stripped back songs
13.30 – Black Cat Bone
Gypsy swing collides tastefully with delta blues in all-star acoustic quintet Black Cat Bone, guaranteed to make you shake a leg.
15.00 – Pete Bernard
The alter-ego of soulful multi-instrumentalist Pete Josef shows a gentler side in his intricate renditions of traditional folk tunes and original songs.
16.30 – Julia Turner
Bristol-based songwriter Julia Turner delivers jazz-influenced original songs with powerful, bell-like vocals.
18.00 – Isolde
Singer-producer Isolde weaves together a clever patchwork of found sounds and field recordings into compelling narratives.
19.30 – Eko Trio
A trifecta of songstresses, Eko Trio features Lauren Bradford, Julia Turner and Isolde Freeth-Hale, whose closer-than-close a capella harmonies are spine-tinglingly accurate.
21.00 – Circe's Diner
Playful, poignant and downright wonderful, Circe's Diner are one of Bristol's most beloved acoustic duos and never fail to draw a smile from the crowd.
22.30 – Jacob & Drinkwater
One of the finest musical pairs in the country, Tobias Ben Jacob & Lukas Drinkwater play smart and sensitive original tunes.
23.30 – Blue Moon Folk Jam
Bring your instruments, or just yourselves, pick a folk tune and get involved with our totally open late night folk jam, going right up to 1am.